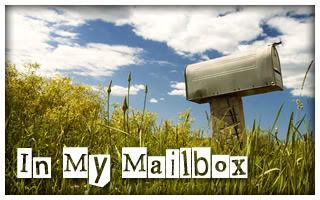 In My Mailbox is a weekly meme hosted by Kristi @ The Story Siren.
I've been a bit slack with my reading the past few weeks, as assignments start to catch up with me; I have 4 due this week. But, while having a study break, I went out to my local shopping centre, and the first thing that grabbed my attention was "ALL BOOKS $5 EACH" (AUD). How could I not stop and take a look. I did behave though, I only bought 2 books. I was a bit disappointed that they only had some books from a series, other wise I would have purchased more (I didn't quite feel like having book 3, if I haven't read book 1+2 yet). Anyway, the two books that I did purchase were:
Spells by Aprilynne Pike
Summary (Goodreads): Six months have passed since Laurel saved the gateway to the faerie realm of Avalon. Now she must spend her summer there, honing her skills as a Fall faerie. But her human family and friends are still in mortal danger--and the gateway to Avalon is more compromised than ever.

When it comes time to protect those she loves, will she depend on David, her human boyfriend, for help? Or will she turn to Tamani, the electrifying faerie with whom her connection is undeniable?
I haven't read Wings yet, but this book sounded really interesting, and I liked the cover! I plan to go back sometime this week and see if they have put Wings on sale.
If I Stay by Gayle Forman
Summary (Goodreads): In a single moment, everything changes. Seventeen-year-old Mia has no memory of the accident; she can only recall riding along the snow-wet Oregon road with her family. Then, in a blink, she finds herself watching as her own damaged body is taken from the wreck...

A sophisticated, layered, and heart achingly beautiful story about the power of family and friends, the choices we all make—and the ultimate choice Mia commands.
Another series. What am I getting myself into? (more reading, but I love it, so that's ok) Sounds good though.
What did you get in your mailbox this week?