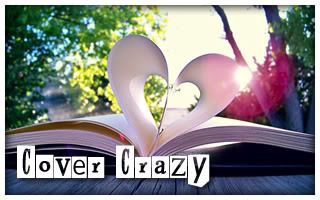 Cover Crazy was created by Tawni @ The Book Worms. It is about sharing book covers that we love (ie. admiring the art and beauty of a book's design).
Oh My Goodness, I am so glad that there is a meme for this
(I guess you could say I was referred by Page Turners)
! I know the saying "you should never judge a book by it's cover" is very true, but when it actually comes to books, I can't help it. When a book is sitting on a shelf, what is the first thing you see? The first thing that grabs your attention? The Cover! If I like the cover, then I'll read the blurb and find out more about it. I absolutely love book covers! So, before I get carried away, here the cover I'm currently crazy about:

(click image for larger view)
The simplicity of this cover is what draws me in. A single girl, encased inside of a bubble. It's strange, but I just can't seem to put into words how I feel about this cover. Do you like it?
Going off on a little 'cover tangent' here, but I'm one of these people that, when reading a series, I have to buy the matching covers. To some extent, even when I buy multiple books by the same author (eg. Jodi Picoult), I'd really like the covers to match. I was a bit disappointed to discover, after buying half of Jodi Picoult's books, that they were being sent back to the publisher, and re-published with new cover designs. I know have 2 'half sets' of covers. But Jodi is such a good writer, and I don't mind. To help with this problem, I usually buy all of the series at one time (hence my huge
In My Mailbox
this week).
So, this is definatly a meme that I hope to be a part of regularly, and I promise next time I keep it strictly about the book cover (so without the rant, lol). Are you cover crazy too? I'd love to see what covers you adore!